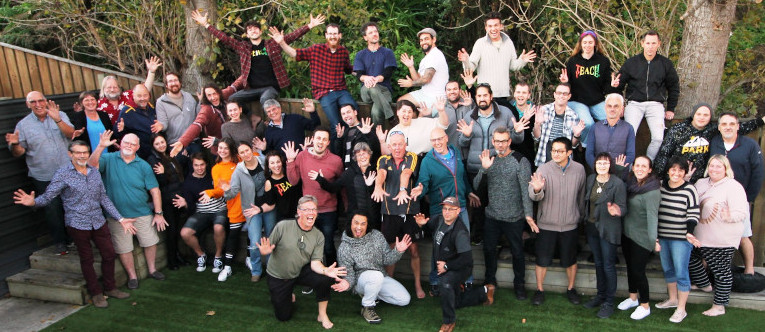 Details

Category: Articles
Nov 2007. NZ Education Gazette.
Support networks are developing for men training or working in early childhood education. WAYNE ERB reports
Bring up the Men in Early Childhood website and their logo shows a male emperor penguin looking after a chick.
It is an apt analogy for a simple point that men in the teaching profession make; that males have a role to play in nurturing and educating young children.
These same blokes now also support each other, through groups for men in early childhood education that operate in the main centres. Some are new, others well-established and this year they have begun communicating with each other through a national network.
Still in its infancy, the network is known as Men in Early Childhood Education (New Zealand) or EC-MENZ.
Details

Category: Articles
1 October 2007 http://www.neon.org.nz
In March this year, a Men in Early Child Care and Teaching summit brought together advocates for increasing the number of men in early childhood sector. Researcher Sarah Farquhar, of Childforum Research www.childforum.com outlined to the conference some of the arguments as to why we need more men in the workforce teaching and caring for children in these formative years.
First, she argues, society has moved on and men are now more actively engaged in caring for their children with an increasing number taking over as the main caregiver as their partners choose to work fulltime.
The absence of men in early childhood centres also means young children may be missing out on any substantial contact with male role models. For children in single parent families, that could mean they have virtually no contact with men at all.
Read more: Why do we need more men in early childhood education?
Details

Category: Articles
The Sunday doco "A few Good Men" shown last year has had a huge impact. It has resulted in early childhood groups taking up the challenge and not ignoring it for another 10 years or more. There is now finally agreement across the early childhood sector that we should have men in teaching. And the Ministry of Education and officials are feeling the pressure for change. It's now up to the sector to develop a successful strategy for improving the situation and hopefully we'll be able to look back in the years to come and consider it strange that such sexism existed.
Details

Category: Articles
Minutes of meeting of the core of the ECE Menz
Saturday 23 June, 2007.
Present:
Adam Buckingham
David Baxendell
Russell Ballantyne
Peter Visser
Details

Category: Articles
19 April 2007
Simon Archard clearly remembers his first day as a BTchg – Early Childhood student at Waikato University's School of Education. Looking around the room, he realised he was the lone male in a sea of female faces.
Three-years on and graduating today (Thursday April 19), Simon is not fazed about being a male in a predominantly female profession. In fact, he is thrilled by the encouragement and support he receives from his female colleagues, the parents, whanau and children at Hamilton's Jubilee Early Childhood Centre
"A male can bring another perspective to a female team and provide the children with another male role model. As a male educator, I can also encourage boys and girls to challenge specific gender activities."
Read more: Graduate brings male perspective to early childhood teaching -Simon Archard